Synology Review
Here is one Synology Review of the bestseller NAS Synology DiskStation DS414.
What is the Synology DiskStation DS414?
Synology's consumer and SMB focused NAS is the successor to the popular four bay DS413 and features significant hardware upgrades and an aggressive price tag. The talking point is the wholly new chipset with the company switching from Freescale or Marvell and Synology claims this will mean a breakthrough in performance.

Synology DiskStation DS414 – Design
On the outside little has changed from its predecessor, but this isn't a problem as Synology's refined NAS designs are some of the best in the industry. As such the DS414 is both minimalist and modern and at just 233 x 203 x 165mm and 2.02Kg (unpopulated) it is compact.
We're also a fan of the matt finish Synology uses on most sides, which resists dust and fingerprints – the former being pertinent for NAS drives as they tend to be setup and left for long periods. The removable gloss facia opts out, but does provide simple access to the drives without the need for hinges that may warp or break in future.
The front also sports Synology's quick copy USB port for adding content from external hard drives. The downside is it uses USB 2.0 when both ports on the rear have been upgraded to USB 3.0.
The DS414 also fits two large 92mm fans on the rear, but only one is used at a time to keep noise down and to provide a backup should one fail. Yes there's fan redundancy! Just below the fan is a pair of Gigabit Ethernet ports which we'll get to later. An omission is the lack of eSATA support carried over from the DS413. This isn't vital given the rise of USB 3.0, but it is a shame for users with legacy equipment.
Lastly we come to perhaps the best bit of the DS414: tool-less drive bays. The bays are highly flexible, which can make them feel flimsy, but this is simply to let them to bend around both 3.5in and 2.5in drives and they would be tough to break. The system allows drives to be swapped within a minute sees Synology catch up with Drobo and Netgear who have offered this for some time.
Synology DiskStation DS414 – Features
So with such a promising external hardware what lies inside? The headlines go to the switch of chipset with Synology dumping the Freescale 1.067GHz dual core CPU in the DS413 for a Marvell Armada XP (MV78230) 1.33GHz floating point CPU. This is backed up by 1GB DDR3 RAM and support for up to 16TB (4x 4TB HDDs) of storage.
RAID support is comprehensive with Basic, JBOD, RAID 0, RAID 5, RAID 6 and RAID 10 along with 'Synology Hybrid RAID' (SHR). SNR supports both volume expansion by both adding a hard drive and by adding a larger hard drive. Just RAID 5 otherwise supports both while SNR also optimizes volume size using only what it needs for data redundancy rather than simply mirroring the drives. It is Synology's answer to Netgear's proprietary industry changing X-RAID.
As with every Synology NAS, the DS414 also supports the company's impressive DiskStation Manager (DSM) web-based user interface. This brings a lorry load of functionality including granular disk management, Active Directory, LDAP, DLNA and iTunes Server support plus native file sharing. Crucially it also integrates with a numerous Android, iOS and Windows Phone apps that offer remote video, audio, photo and file access.
Synology DiskStation DS414 – Setup
Just a few years ago setting up most NAS was an exercise in frustration, but while many have improved Synology has developed arguably the smoothest and most user friendly experience on the market. Connect the DS414 to your network and, like many modern routers, you can access it via its IP address in your browser.
The company's downloadable 'Web Assistant' will also provide you with a walk through setup wizard that configures everything from the DS414's network name to its RAID type.
Once up and running DSM comes into its own. Operating systems may be headed towards a finger friendly future, but DSM's Mac OS X inspired desktop remains the benchmark for NAS operation. Settings are represented as programs that open their own windows and each has its own help files and setup wizard so you don't mix up what does what.
DSM also runs widgets showing your NAS health, CPU and RAM usage, log files and connected devices. The WD My Cloud may have given us a glimpse of the future for consumer friendly NAS, but for advanced users and businesses DSM remains the full fat UI of choice.
Synology DiskStation DS414 – Performance
So everything sounds good in theory, but the kicker is the DS414 also far outperformed our expectations in practice. Using our test setup of a pair of NAS-focused WD Red 4TB HDDs over Gigabit Ethernet the DS414 posted ballistic read and write times of 112MBps (896Mbps) and 97.3MBps (778.4Mbps) using SHR. This was across a range of file sizes from 180MB to 4.5GBs with rock steady accuracy as the graphs below display. Impressively, we also found switching to RAID5 and RAID0 didn't alter these speeds with any consistency.
Compared to rivals these speeds are significantly faster than we've seen from any other consumer/SME NAS and even outstrip the jaw droppingly quick WD My Cloud. That said the figures also expose Gigabit Ethernet for the first time as a bottleneck for this category of NAS. This is a problem as 10GE (10 Gigabit Ethernet), despite being around since 2007, remains prohibitively expensive for this product segment and is also shunned by motherboard manufacturers.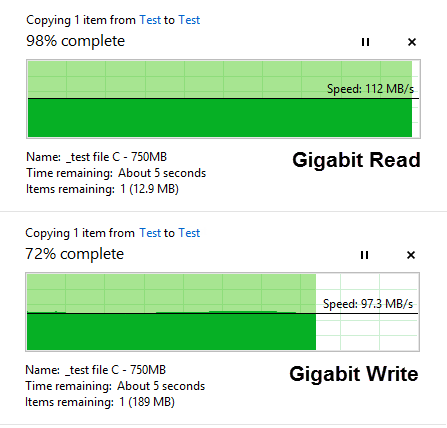 To get around this Synology has equipped the DS414 with 'Link Aggregation', which harnesses the speed of both the DS414's Gigabit Ethernet ports to potentially double the bandwidth. With this setup complete Synology claims the DS414 can produce 200MBps reads and 135MBps writes, showing the potential of the new Marvell chipset.
The problem is this also outstrips the speed of most HDDs, making them the next bottleneck and SSDs a wildly expensive option to address it. Furthermore, setting up Link Aggregation is impractical for most. No routers currently support it meaning you'll need a managed switch and a PCI Link Aggregation card for your desktop PC as even most dual Gigabit sporting motherboards are incompatible. The total cost is more than the DS414 itself and laptops cannot be catered for either.
LA equipment is rare and no networking maker we reached out to could provide us with the equipment to test this, which only emphasises the magnitude of the problem. As such NAS could begin to plateau at the limit of Gigabit Ethernet unless progress can be made with the price of 10GE. The flip side is in hitting the limits of Gigabit Ethernet NAS is something only the most data intensive of users is likely to find a problem.
Despite this great credit goes to the DS414 in hitting these speeds while keeping its composure. Fan noise was minimal with operation staying under 20dB(A). Of course much will depend on the type and amount of hard drives you add, but our WD Reds remained eerily silent making such a setup viable for a study or living room.
Should I buy the Synology DiskStation DS414?
All of which brings us to price and with an official RRP of £342 (unpopulated) plus a two-year warranty we have a drive that not only outperforms its rivals, but undercuts them as well. For example the four bay QNAP TS-469L retails for just under £500 and with significantly slower performance it shows Synology's latest NAS has set the standard for others to catch.
Verdict
It may look like its predecessor, but with the DS414 Synology has broken through price and performance barriers to create a category of NAS now only held back by the limits of Gigabit Ethernet. Beyond this the DS414 is compact and quiet, it packs bucket loads of functionality and industry leading usability. A new standard for entry level four bay NAS has been set.
Contact Us!
Disclaimer: Win-Pro Consultancy is a reseller of Synology Products. For Technical Support, please visit www.synology.com
If you are interested in Synology Products:
Hotline : +65 6100 2100 (SALES)
Phone Number : +65 6717 8729
Fax Number : +65 6717 5629
Address:
38 Jalan Pemimpin
#07-04 M38
Singapore 577178