Synology File Share
With Synology File Share feature via Synology DiskStation, it provides you a secure and fast way of sharing files. Acting as a file center, File Station lets you not only move files in between your PC and DiskStation, but also offers the flexibility to set up permissions for user privileges to enhance productivity. You can even enjoy seamless file sharing across different platforms -Windows®, Mac®, and Linux®, no matter where you are, what device you use.
File Station
File Station is the file center for you to manage files and share files stored on DiskStation. Upload data from Mac or PC takes no more than a simple drag-n-drop, and it's ready to be shared with everyone. Whatever that you are looking for – be it document, photos, or videos – use advanced filters to locate it and preview it via Google Docs or other built-in services. Best of all, content in File Station can reach out to more devices via its app, DS file.
Business can put their trust on File Station as it comes with HTTPS protection and Windows ACL support. Password and link expiry date can be set up to strengthen security when sharing data with external parties. For large businesses having many servers dedicated to specific purposes, use Remote Folder to create a unified file entrance through File Station. Virtual drive allows mounting up to 16 ISO images simultaneously, making batch installation easily available to offices.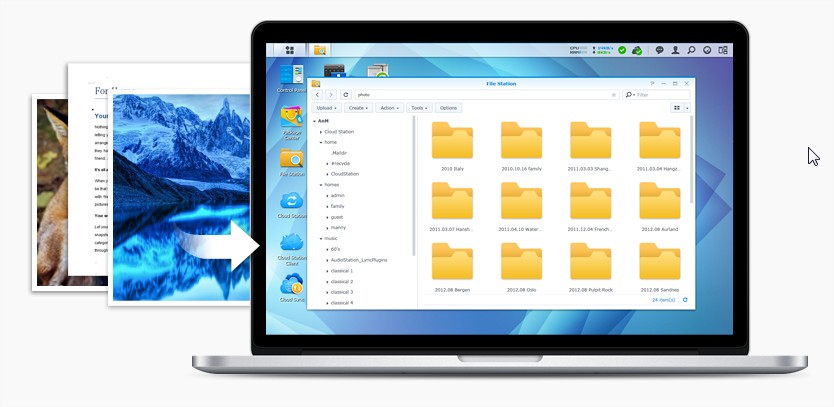 Windows®, Mac® & Linux®
With comprehensive network protocol support including FTP, SMB2, AFP, NFS and WebDAV, DiskStation can assure seamless file sharing across Windows®, Mac®, and Linux® platforms. Anyone with DiskStation enjoys smooth file exchange across all devices. Whatever protocol you seek to use, we have them covered. You will be able to remotely access a Synology DiskStation just like accessing a local network drive.
With Recycle Bin enabled, you won't worry about missing files since files deleted in a shared folder will be automatically moved into a shared folder. Also, Recycle Bin's advanced retention policies let you define rules in advance – you can decide which files will be automatically deleted, according to their time of deletion, size or file type. The Recycle Bin feature is supported on AFP, CIFS, File Station, and WebDAV.
FTP, WebDAV & CalDAV
If you are looking for a way to share big files over the Internet, FTP will be one of the best solutions. DiskStation simplifies FTP setup, guiding you to host your own server with just a few clicks. Advanced settings including bandwidth control and SSL/TLS connection ensure confidential files are shared securely. In addition, DSM accepts WebDAV and CalDAV services with HTTPS support.
Speed Limit, Disk Usage Report & Log Center
Monitoring and managing the status of file service is important for IT administrator to well allocate their IT resources and ensure efficiency. DiskStation provides a variety of features to control and monitor file transfer, storage usage, and activity status.
Set speed limits for your file services to optimize your bandwidth usages, so you can easily control the entire company's consumption. With Disk Usage Report, you can get insight into your data storage and understand who the heavy users are, the trend of disk usage, which type of files takes the most disk space and which shared folder is the largest one. You can also find and delete duplicate files easily. Finally, Log Center in DSM 5.0 offers complete log capabilities to record all file operations on various file services for IT admins to search them anytime.
Contact Us!
Disclaimer: Win-Pro Consultancy is a reseller of Synology Products. For Technical Support, please visit www.synology.com
If you are interested in Synology Products:
Hotline : +65 6100 2100 (SALES)
Phone Number : +65 6717 8729
Fax Number : +65 6717 5629
Address:
38 Jalan Pemimpin
#07-04 M38
Singapore 577178